Let real estate agents do your searching
Determine your requirements and estate agents will inform you about interesting options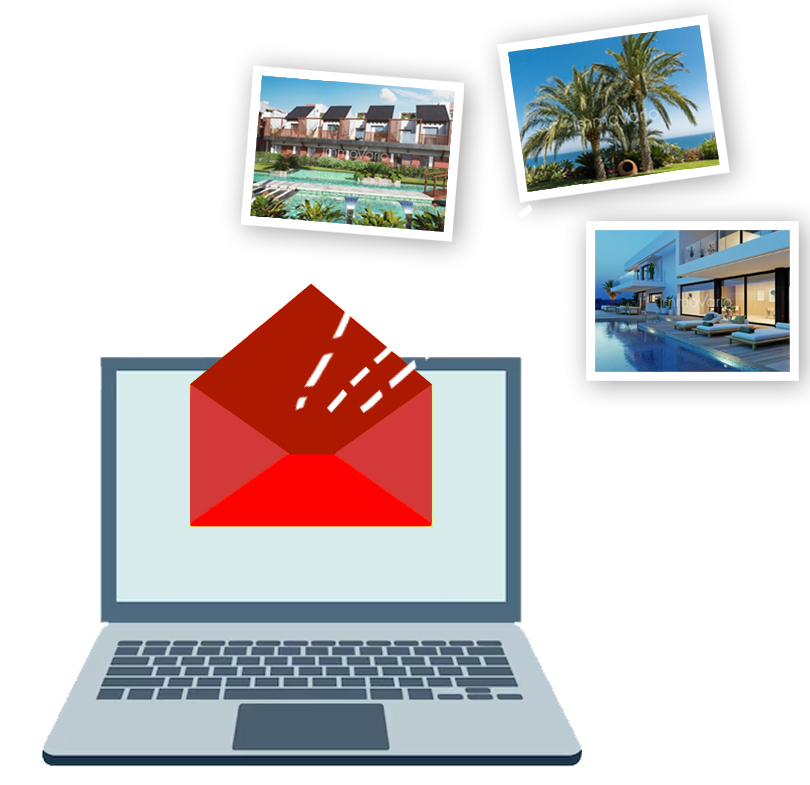 Recommended Spanish property for sale
Discover new and inspiring places in Spain
Properties from the Costas and Islands
Listings in the Spanish tourist areas
ImmoVario is an international portal with second residential property for sale via local real estate agents in the turistic areas of Spain (Costa Brava, Costa Dorada, Costa Blanca, Costa del Sol, Mallorca, Ibiza, ...).
Here you will find a large amount of Spanish properties for sale: fincas, villas, chalets, houses (search for: "Houses for sale Spain"), apartments (search for: "Apartments for sale Spain") and land, terrains or building plots (search for: "Land for sale").
Property portal ImmoVario joins the forces of international real estate suppliers by offering their listings in a clear and easy way. Our partners are, among others, real estate agents and project developers. They are professional service providers in the area of real estate, with whom you can always come into contact swiftly and easily.
Consider also the new way of searching for property in Spain: let real estate agents do your searching for you. Determine your requirements and receive your personal selection out of the listings of many estate agents.
Do you want to search yoursélf? Our partners' listings are presented completely and pleasantly. ImmoVario also allows for easy direct contacts between suppliers and their potential customers. Language barriers are broken by presentation of the listings in multiple languages.
Click on any of the links at the bottom of this page to start your search for a specific location, or use the navegation buttons at the top of this page.
You can save your favourites, control them and send them to an acquaintance in "My favourites" and if you want to be kept informed about new offers that might satisfy your wishes, then fill in "New listings by e-mail". You will automatically receive e-mails then, that will inform you of the newest offers.
If you find a property of your interest you can contact the estate agent quickly and directly by using the contact form of each property listing. ImmoVario also facilitates you to get access to the direct contact details of the individual estate agents.
So purchase a home, an apartment or land in Spain via a real estate agent on the ImmoVario property portal.
Thank you for visiting ImmoVario.com.